Our Mini Golf is the perfect place for Birthday Parties, Scouting Events, Field Trips & Corporate Events. (Reservations are only required for above events)
Take the family out for a fun-filled day playing miniature golf or hitting some balls at the batting range at Rocky Gorge 4 Seasons Golf Fairway, a golf range located in Laurel, Maryland. Whether you want to try your hand at hitting the softball or getting a hole-in-one, you and your family are in for a day full of entertainment and fun.
Join Us for a Relaxing Day
Whether you come alone, with friends, the kids, or the entire family, you are sure to find something at our golf range for everyone, including:
• Rocky Gorge Sheltered Practice Area
• Heated Tees for Winter
• Electric Fans for Warmer Summer Days
• Golf Pros Available for Group or Private Lessons
• Batting Range
• Miniature Golf Course
Fun for All Ages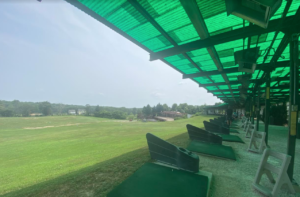 Payment Info
Rocky Gorge 4 Seasons Golf Fairway Payment Information
• The Golf Driving Range accepts cash, Visa and MasterCard
• Miniature Golf & Batting Cage is CASH ONLY with ATM on premise
Testimonials
Is and has been a great place for a lot of years, rain or shine you can work out your swing! If your lucky enough, you can hit with a Legend #33

My go to spot for a lil putt putt, and driving range. Haven't tried the batting cages so I can't speak on that. But if you wanna flex your manhood on a pretty gd putt putt course, check this place out.

I love golfing, especially shooting golf balls from up high. It's a wonderful experience and a good time.